Robyn's Fishy Page Too
Last Updated: 7/23/98
Goldfish
Guppies
Koi
Orfes
Otocinclus
Mosquito Fish
Panda Cories
Paradise Fish
Plecostomus (Common)
Rosy Barbs
Rosy Red Minnows and Fathead Minnows
White Cloud Mountain Minnows
Zebra Danios, Blue Danios, Leopard Danios, and Gold (Albino Zebra) Danios
---
Small amounts of information on the following additional fish for ponds, native tanks, or European tanks can be found at my Pond Animals Page:
Bitterlings, Catfish, Dace, Darters, Grass Carp, Shiners, Minnows, Roach, Rudd, Shiners, Sunfish, and Tench
---
Note that you should read all information under your fish of interest. Sometimes, something about one topic may be under more than one heading or the "wrong" heading. Certain fish may even be discussed under other fish based on the interactions of both species together in my tanks.
---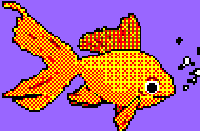 Note: See the links on the fishy page for other places to visit. Many of these people have more experience than I. In particular, the one goldfish link goes into great depth about plants to use with goldfish and sexing goldfish.

Introduction and Description
Varieties
Setup and Water Preferences
Sexing
Breeding
Keeping other species of fish with goldfish
Story of how my goldfish and catfish "got along"

Carassius auratus is probably the most tortured fish in the world. There are nearly a hundred varieties of goldfish. They are all the same species and can interbreed (although sometimes difficult and not recommended to mix varieties). Goldfish grow large if given proper room and food. Common goldfish with 50+ gallons to swim in, grow easily to a foot long. Lengths of six inches or more for most varieties are not unheard of. Thus, goldfish are absolutely unsuited for life in bowls or small tanks. They are in fact the least suited of most commonly sold fish. If you want a bowl or small tank, keep small tropical fish with a heater or small coldwater fish without one. If you go so far as to desiring no electricity at all, a betta will do well in warm areas and a paradise fish in cooler areas. Even then, anything less than 2-5 gallons for a fish or two is cruel in my mind. Bigger is ALWAYS better when it comes to tanks. Bigger tanks are also easier to care for. In addition, goldfish have been known to live into their 30's at least. Life expectancies from 10-20 years are normal for well cared for fish. What does that mean? Most goldfish keepers believe that for goldfish to thrive, they require at least 10 gallons per fish with more always better. In ponds, 30-50 gallons per fish is better. Goldfish also desire (but do not require) a change in temperatures over the seasons. Outside, mother nature provides this. Inside, either using no heater or setting it in the 50's or 60's degrees F range (60's or more for fancier varieties), provides enough of a change. This seems to make them happy. It also is the key to getting the fish interested in breeding. Above about 75 degrees F, goldfish are unhappy. Never set the heater this high. They can tolerate these temperatures, even into the 90's for a few days, for only the length of a normal hot spell in summer.

Here is an incomplete list of varieties. Common colors are given but all varieties can be almost any color. Goldfish can also be any combination of each of these varieties in which case they may be multiple varieties at the same time. Also, any variety with double tail or caudal fins should have double anal fins; and anytime long tail is mentioned, the other fins are also longer than in the common goldfish. Dorsal fin = fin on the back. Caudal fin = tail. Anal fin = fin near vent or anus. Pectoral fin = fins near front on sides used to maneuver. The varieties are in no particular order.

*Common - single tail; no adornments; usually natural bronze or reddish orange with white on the fin tips but may be other colors; picture
*Comet - single long tail; no adornments; essentially long finned common goldfish; usually orange with or without white or black on fins; often change colors as age
*Bristol Shubunkin - single long tail; no adornments; mix of white, red/orange, and blue/black
*London Shubunkin - single short tail; no adornments; mix of white, red/orange, and blue/black
*Fantail - double tail; fat bodied; red, white, calico, or any combination
*Veiltail - double long tail; fat bodied; red, white, calico, or any combination
*Lionhead or Ranchu - short double tail; no dorsal fin; fat bodied; hood or growth on head; red, white, calico, or any combination
*Oranda - long double tail; lionhead with dorsal fin; less fat bodied; hood or growth on head; red, white, orange-yellow, red cap (red just on hood), calico, black, blue (gray), chocolate (bronze), brown, or any combination; picture blue oranda; picture calico oranda with torn fins; picture red cap oranda
*Telescope eyed - double long tail; with or without dorsal fin; fat bodied; large eyes; developed from veiltail; red, white, calico, or any combination
*Black Moor - double tail; deep black color; large eyes; essentially a black telescope eyed goldfish
*Bubble-eye - double tail; fat bodied; no dorsal fin; large fragile sacks around eyes filled with fluid; developed from celestial; red, white, calico, or any combination
*Pearl scale - double short tail; fat bodied; protruding scales as if fish has dropsy; red, white, yellow, calico, or any combination
*Pompoms - double tail; fat bodied; no dorsal fin to be "prized" fish; may have other adornments; pompom like growths near nostrils; red, white, calico, or any combination
*Celestial - double tail; no dorsal fin; upturned fragile large eyes as adult; red, silver, orange- yellow, white, or any combination (usually metallic)
*Wakin - double short tail; bright colored; yellow, orange, white, or red-orange and white
*Peacocktail - tail like a butterfly; developed from Wakin; red, white, calico, or any combination
*Fringe tail = double large tail; fat bodied; hump on back; red, white, or any combination
*Albino doll = double tail; fat bodied; large eyes; albino telescope eyed-like fish

As mentioned above, the larger the tank, the better. I have 1 small, 2 medium, and 1 large goldfish in 50 gallons which works well. Temperatures from the high 30's to high 80's degrees F are tolerated by common goldfish. Fancy goldfish may die below 50 degrees F (although many overwinter some fancy goldfish outside and they can survive). All varieties may die above 80 degrees F, actually most likely due to the large decrease in the oxygen carrying capacity of the water at these higher temperatures. Goldfish seem to do best at a moderate hardness. Mine are in soft water. I add one Tablespoon per 10 gallons of aquarium salt (for freshwater fish) to increase the ions in the water and lessen the osmotic differentiation between the fish and its water. (Sorry, I am talking like a chemist!) Goldfish eat just about anything including most flake and pellet foods, live plants (yum, anacharis!), cucumber (cut in half and weighted down), boiled and peeled peas, earthworms, insect larvae, and fish eggs and fry. Since goldfish are large, they poop a lot. Thus, not only is good filtration and aeration a necessity, but their water should be partially changed EVERY week (with dechlorinator, salt, etc.) in tanks. Change between 25- 50% every week. This pertains to tanks in the 20-200 gallon range. Smaller tanks should change more and larger tanks and ponds only need change small amounts, and less often.

Some people will say that this is only possible during breeding. During this time, males chase females who lay eggs. Also, males develop white spots on their gill covers called breeding tubercules. But, even during non-breeding times, an experienced person can sex adult goldfish. Females are usually (but not always) larger, fuller, and have a convex anal opening (vent). Males are usually (but not always) thinner, longer, and have a concave anal opening. Another method that often works (year round in mature fish) is that females' sides appear asymmetrical (her side sticks out further on one side, uneven sides) when viewed from above whereas males' sides are symmetrical.

Breeding: The keys to breeding goldfish are temperature change and providing a place to spawn. A gradual increase in temperature from say 50 to 75 degrees F over a few months should excite the fish. The females need soft, coldwater plants in shallow (under a foot) areas to spawn. Plants such as anacharis, cambomba, hornwort, java moss (in tanks), etc. work. You can also buy artificial spawning mops for her to lay the eggs. If you want any (in tanks) or more than a few (in ponds) fry to survive, remove the eggs as soon as they are layed. Both fish will eat the eggs immediately. Keep the eggs in similar water. They take up to a week to hatch. The newborns may lay around for another week. Only when they start to swim around, should they be fed small foods like infusuria. Later, they can eat baby brine shrimp. In crowded conditions, they grow slowly. There are often runts, malformed fry, and fry that do not conform to what you had intended to breed. These fish can be culled or reared separately to be used as "feeder fish." An individual may cull most of the fry (often by feeding them to other fish) because he or she does not have the room for multiple tanks. In clean, uncrowded conditions, goldfish grow fast. They can grow to a few inches within the first year. It may take a year or two before they change color from brown to gold or whatever color their parents were. Goldfish change color throughout their lives.

Can I keep other fish with my goldfish?:

This is one of the most common and controversial questions about goldfish. Experts say that you cannot keep other fish with goldfish because:
1. Goldfish require cooler water than most other fish.
2. Goldfish will contract diseases that most other fish carry.
3. Other fish will harm or harass goldfish.

I believe that Numbers 1 and 2 are not valid. First, there are literally hundreds of fish that can survive 75 degrees F or less, the goldfishes' preferred temperature range. Even so, in my ponds, the goldfish can live into the 90's degree F, but only for short times. Thus, the temperature reasoning would only rule out such high temperature fish as discus from being kept with goldfish. While Number 2 has some value, I believe that all fish should be quarantined and treated for ick regardless and that, in fact, goldfish are just as likely (and maybe more so) to give diseases to so called "tropical fish." The words tropical and coldwater are often misused. Some books define goldfish as tropical (obviously not!) while other define such coolwater fish as white cloud mountain minnows, rosy red minnows, guppies, zebra danios, etc. as tropical when in fact, they can survive lows from near freezing to about 60 degrees F, depending on the species. All of these mentioned fish can survive short periods in the 90's degree F but would not like to be above about 75 degrees F for more than a few months at a time in summer. Thus, we are back again to reason Number 1.

It is not until reason Number 3 that the true reason goldfish should be kept alone is seen. Even so, in ponds where there is a lot of room, even this rule does not stand up. I keep rosy red minnows, koi, white cloud mountain minnows, orfe, common, and fancy goldfish all together in my 1800 gallon pond. I would not do so in a tank. Let me recount my experience. This is not to say that the same results would occur for others.

I bought a 50 gallon tank to put in my four goldfish from my old 20 gallon tank and plecostomus from my old 10 gallon tank. I also bought four panda cories. I kept the heater at about 68 degrees F. For more than a year, they all got along fine. Then, my adult female developed a few rips in her fins from her overzealous suitors. As she layed on the bottom resting, the panda cories would suck on her wounds. Then, one day, I caught the plecostomus sucking on her side. That was it for my experiment. I put the injured goldfish in a breeding trap in the same tank so that she would receive clean water circulation. I treated her (and thus the whole tank) with a fungus killer since her open wound soon became a fungal forest. She had NEVER been sucked on like this before. After two weeks in her net, I moved the cories to my 20 gallon and the plecostomus to my 10 gallon, and then I released her. She was still alive but hung around the surface and floor a lot. The males harassed her but did not seem to have further injured her. Both she and my tiny female had only half of their tail fins due to the male goldfish, cories, and plecostomus biting them off. The plecostomus was my biggest problem. I could never destroy him or return him to a store to suffer. I also could not find a divider for my 50 gallon tank nor put him in my planted 20 gallon tank (he eats all plants but onion plant). Thus, he, all 7-9 inches of him, lives in the same, puny tank from whence he came. Hopefully, this is just temporary. I do not have the space or time for another large tank which he so desperately needs. Fanny died months later on 11/23/97. She never grew her fins back which grew a black coating. Fanny did not move or eat for the last month of her life. The pleco cannot be fully blamed. I added a new goldfish in 10/97 who already has fin damage with no apparent cause. The males must be doing it. On 6/98, two rosy barbs with my pleco died. They were not sick and had overnight chunks out of their side. As plecy (his name) was the only one with them, he must have killed them.
Years ago, when I knew basically nothing about keeping fish, a pet store employee told me it would be okay to add this long whiskered catfish to my goldfish tank (I do not know the species of this catfish, I am sure the employee did not either!). This catfish went right for the goldfish. I immediately removed him and put him in the bathtub intending to return him in the morning. The tub drained over night but the catfish was still alive. He died a few hours after being added to more water.
Look under plecostomus for even more stories of plecos and goldfish. Anyway, the moral of the story: Do not add any species of fish with your goldfish (especially catfish) because you never know what will happen and you may regret it. I certainly did!!
---
Description:
Lebistes reticulatus or Poecilia reticulata, the guppy, has been bred into dozens of colors and varieties. They keep on changing the Latin name. Just like goldfish and koi, the guppy is a show fish. Wild guppies are nothing to jump up and down about. Females are just a brownish gray. Males have some spots of red, blue, etc. but may also be plain. Some can be rather pretty. Native to parts of Central and South America, the native guppy is also called the Millions Fish. This is because it breeds so well. Fancy guppies can have any combination of reds, yellows, golds, silvers, blues, purples, oranges, greens, blacks, browns, and/or whites. Most guppies stay at about 1-1.5 inches long but they can grow to 2.5 inches. Guppies do chase each other and other fish but generally do no harm. They are considered relatively peaceful. They will however eat newly hatched fry of most species. A few gallons per guppy is adequate. They generally live a few years.
Setup and Water Preferences:
Guppies need moderate hardness, some added salt (one Tablespoon per five gallons) if the water is soft, and a slightly basic pH (7-8.5). They can survive, at least for a while, in almost any water. Be sure to provide lots of plants in which the females and fry can hide. They need at least a few gallons a piece. They eat most anything but prefer live insect larvae and fry.
Sexing:
Guppies can mature by three months. Males are generally smaller, but often longer finned. Females are full bodied. Males are much more colorful. They also have a gonopodium which is a modified fin which delivers sperm into the female.
Breeding:
Keep a few females with a male. When you can see a dark mass near her vent, she is nearing delivering. Place her in a breeding box. In these, the newborns fall below a grate so that the female cannot eat them. Alternatively, provide a lot of plant cover and some fry should survive. Feed the newborns prepared fry food, crushed flakes, and newborn brine shrimp.
---
Description:
Cyprinus carpio, koi, or Japanese carp can grow to four feet in length. They can live over a hundred years. They can lay thousands of eggs at a time. Most often, they only grow to a few feet long. They grow throughout their lives. Only the fry are suitable for tank life. In a pond, the only suitable life for such large and elegant fish, they require at least a few hundred gallons a piece, depending on their size at the time. Outside, they also need a few feet below maximum ice depth to overwinter. Koi come in reds, whites, yellows, blacks, and blues (not true blue) of all combinations. They can be dull or shiny, short finned or longfinned. Longfinned koi or butterfly koi are part Indonesian carp and are not recognized in judging yet. Judging and breeding koi is a large business in Japan, China, and parts of the US.
Setup and Water Preferences:
Koi should be put in ponds of 500+ gallons. They prefer a moderate hardness, temperatures from just above freezing to the high 70's degrees F, and clean, well oxygenated water. Koi eat just about everything! That includes insects, fish food, and your prized water plants when it suits them.
Sexing:
Males can develop breeding tubercules. During breeding, females are noticeably fatter. Outside breeding times, sexing is very difficult. I am not aware of any methods used.
Breeding:
Left to their own in a large pond with both males and females, koi will spawn on soft plants in the shallows. The information on koi is similar to that of goldfish. Refer above. In fact, goldfish and koi can produce offspring since they are closely related. The resulting mixed species fish are believed to be sterile.
---
Description:
Leuciscus idus, the golden orfe, is suitable for ponds. It can grow to 2.5 feet but usually stays near 1.5 feet. It is a long, slender, bullet-shaped, schooling, orange fish with black dots on its head and back (not always present). They are great to put goldfish and koi at ease and encourage them to spend time near the surface. Orfes are native to Europe and were derived from the ide which is a silver predator. Some say that they are better pond fish than goldfish. This is probably due to their fast, active behavior near the surface where you can see them seemingly having fun. Others find their behavior too active. They need lots of room, and I do not know how long they live. I would guess at least 20 years. Today in addition to the golden orfe and wild ide, there are also blue and marbled varieties of orfe but I have yet to find any to buy.
Setup and Water Preferences:
Orfes only grow large and thus breed in large ponds. They need well-oxygenated water of medium hardness. They live in water from just above freezing to the 70's degrees F. They are similar to koi in their needs. Orfe are said to be more sensitive to medications so avoid using them. They eat most anything but are especially fond of insects on the surface and small fish (fry and minnows in my pond). Orfe prefer to be in a shoal so if you get any, try to get at least three which is not many but they do get large.
Sexing:
Males can develop breeding spots and females are heavier, but only during breeding.
Breeding:
I do not know much about this. I recall reading that they spawned in caves in the bottom. If your orfe spawn, you will probably not know until you identify fry as such. A large pond (at least 1000-3000 gallons) is needed.
---
Description:
Otocinclus affinis are often called ottos. There are half a dozen available similar species. Ottos are small, suckermouth catfish that eat algae. Unlike most other algae eating catfish, ottos will not usually eat your plants. They, in fact, clean algae off of plants. Ottos grow to about 1.5 inches at most so they can live in small tanks (10+ gallons). Ottos are great fish for planted tanks with non-aggressive fish. They are very delicate and die easily. It is best to get them in groups of at least four. Usually some die but the survivors can live for years.
Setup and Water Preferences:
Ottos like slightly acid, soft water with lots and lots of plants. They prefer temperatures from about 68 to 79 degrees F. Even more than most fish, they need very clean, well-filtered water. They eat algae, algae tablets, and sometimes vegetables you can add. They should have driftwood on which to chew. They are very sensitive to medications; some of mine have died during treatments.
Sexing:
Females are larger and fatter than males.
Breeding:
If you have lots of plants, lots of ottos of both sexes, and good water to their liking, they will lay eggs on the plants. The few eggs hatch in about three days. The fry need very tiny food to eat. Surface algae is the best food.
---
Description:
There are many species called mosquito fish. All are livebearers. I am referring specifically to Gambusia affinis. There are a number of subspecies. This fish is insignificant in color, a melange of brown, dull yellow, and black. Females grow up to 3.25 inches while males grow up to 1.75 inches depending on the subspecies. Usually the fish stay around an inch long. Mosquito fish are far from perfectly peaceful. Mine used to harass each other and other fish. In a pond setting, they are less bullying. They also will eat some of their babies. Each fish needs a few gallons to itself, and they will live at least a few years. Mosquito fish are native or introduced to much of the United States. Here in Maryland, they inhabit many drainage ponds and ditches. They are used for mosquito control in stagnant water.
Setup and Water Preferences:
They can take a range of pH's from about 6.0 to 8.5. They also can take a variety of hardnesses. As with most livebearers, a moderate hardness and some added salt can be beneficial. Mosquito fish are known for their ability to survive in almost any collection of water outside. They can survive temperatures from the high 30's to the high 90's degrees F but between 60 and 75 degrees F is best if it can be controlled. Provide plants and other hiding places. They will eat flake food and some algae but prefer live insect larvae and fry. They eat mosquito larvae, hence their name.
Sexing:
They are easy to sex. Besides the mature female being significantly larger and fatter, the mature male has a gonopodium. This tube-shaped fin acts like a penis does in mammals.
Breeding:
If you put at least one mature male and one mature female together in at least five gallons of water and the temperature is between 65 and 80 degrees F, you will most likely be expecting fry soon. Some books suggest placing more males than females together, unlike with other livebearers. After about 24 days, the females will give live birth to 10-60 babies. In small tanks, the female should be placed in a net or birth box for livebearers when it looks like she is ready to pop. The fry should be visible as a black spot near her vent. After the babies are born, remove the mother from the box. She will eat her young as will most fish that see them. In a pond, these fish usually breed virtually out of control and soon, with no help from you, there should be hundreds of fry. This may seem like too many for your pond but many will die over winter in areas with freezing temperatures. The fry are rather large and can take finely crushed flakes, prepared baby foods, and newborn brine shrimp right away. Keep the fry at around 75 degrees F.
---
Description:
Corydoras panda or panda cories are small black and white cories. They have black over their eyes (like panda bears), on their lower dorsal fin, and in a splotch right before their caudal fin. They grow to about 1.5 inches. Mine only lived about one to two years but I suspect they normally live much longer. They are very peaceful and cute.
Setup and Water Preferences:
Panda cories require clean, oxygen-rich water. They live best between 68 and 75 degrees F. They do not tolerate high temperatures for long periods. They can live in hard water it is said but mine do fine in soft water. Because they are small, they can be kept in tanks as small as 5 gallons for a few of them. About six in a 20 gallon with a few other peaceful fish would be a good colony. Individual cories, without companions, will waste away. They are most active at feeding time and dusk. Provide small pots, plants, etc. in which they can hide. Also, feed sinking tablets. There are many types made specifically for cories. They are omnivorous, eating whatever appeals to them in the substrate. These little vacuum cleaners are known for their cleaning abilities. They have never eaten any plants in my tanks.
Sexing:
Females are larger and fuller. Males are noticeable smaller. If you catch them breeding, you can be sure of their sexes.
Breeding:
The largest breeding trigger is a large water change with cooler water. Every week, I change 50% of their water (usually near 75 degrees F) with water of about 70 degrees F. They spawn at dusk in the typical cory manner. The female appears to suck up the male's sperm while in a "T position." She somehow places the sperm within reach of her singly layed egg (many ideas exist). Each female carries single eggs in her pectoral fins and deposits them around on glass, fake plants, etc. She will then repeat the process. Cories normally have small broods but panda cories' are especially small. Mine typically only layed about six eggs in one night. The rather large fry hatch in 4-6 days and lay on the bottom where they can be sucked up so that other fish do not eat them. After a few additional days, they search the bottom for food. They should be raised in shallow containers (like most catfish, they need to gulp air) and given sinking microscopic foods. Newborn brine shrimp work well since they move all over the tank.
---
Description:
Macropodus opercularis is the paradise fish. It is a gorgeous melange of reds, blues, blacks, and whites. It is a labyrinth fish, thus, it can survive in waters with low oxygen content. They can grow to about 4 inches and live at least a few years. There are also black and albino paradise fish that can interbreed as well as new varieties being "created" all the time.
Setup and Water Preferences:
Unlike the commonly sold betta splendens or Siamese fighting fish, paradise fish can withstand water down into the 50's degrees F. They prefer the low 70's degreees F and can withstand hotter temperatures for short periods of time. Because of this, they are better suited to unheated, unaerated tanks than bettas. They do grow larger so should have at least 2-5 gallons a piece to themselves. The ability of paradise fish to get along with other fish varies. Unless the tank is large or there are a lot of hiding places, two or more paradise fish will probably not get along for too long. Two males especially will fight, though usually not as viciously as two male bettas. Female paradise fish can also fight with each other and males. Some say that their paradise fish do or do not get along with various other fish. Mine is rather layed back. He lives with a pair of rosy barbs and a plecostomus. My paradise fish has never even lunged at these fish. He just hangs out at the surface most of the time. They prefer moderate hardness and a neutral pH. Paradise fish eat most anything but mine prefers flakes to live food. They supposedly like to eat pesky planaria. Another note of importance: These fish jump, boy do they jump, so cover the tank leaving no holes they can jump through!
Sexing:
Males have longer fins and more bright colors than females. Without another fish for comparison, sexing is nearly impossible in my experience.
Breeding:
As my paradise fish never bred, this is just what I have read. The male builds a bubble nest. When ready, the female and he spawn. He chases her off, tends the nest, and acts rather aggressively. Hundreds of fry are born in a few days. They need infusuria first due to their tiny size before graduating to baby brine shrimp.
---
Description:
Hypostomus punctatus, or hypostomus plecostomus as it was known for so long, is a suckermouth catfish with patterned brown skin. Their patterns change with the background and their mood. The common plecostomus or pleco is sold in large numbers. Hereafter, references to pleco are specifically referring to the common pleco and not necessarily other species. The pleco should not be sold with so little thought to unsuspecting customers (yes, I was one about four years ago!). First, plecostomus grow big, big, big!! The little two inch ones that they sell at the pet stores grow typically to nearly a foot if well cared for. Do not buy one, intending to keep it forever, unless you have a tank of at least 50 gallons. They also just love to suck on ailing goldfish, discus, and other fat bodied fish. Avoid adding them together. There is one pet store near me that has about 20 tanks of fancy goldfish. Every tank has a small plecostomus and at any time, half of them are sucking on a goldfish. The employees apparently believe that any damage overshadows their algae cleaning abilities (in other words, they are too lazy to clean off the algae and do not care about the goldfish). My pleco recently killed the two rosy barbs with him even though he is 7 inches long and they were only about 1.5 inches long. This said, plecostomus are great and interesting fish. In a large tank with small fish, nothing can beat them for algae cleaning capability. There are many other species of plecostomus more suitable for smaller tanks. Some are relatively inexpensive like the bristlenose pleco and some command higher prices like the gorgeous zebra and mango plecos. These often smaller other species of pleco are also often much less damaging to plants. Plecos can live a dozen years or more. One of my books says that hypostomus punctatus is a "harmless loner." Small fish may agree but many of my and other people's goldfish and plants would beg to differ!
Setup and Water Preferences:
Plecostomus require special food. At dusk, add those dry spirulina tablets that say they are made for plecostomus. Mine prefers those made by Wardley the most. Also, cut a cucumber in half (I only use about 30% of its length), spoon out the seeds, attach it to something (they make special vegetable holders), and place it on the bottom. They will also eat squash and zucchini in this way. Boiling is not necessary. Remove the leftovers every morning. Feed as often as necessary, depending on their size. Mine is about 8 inches and gets his cucumber every 1-3 days, depending on availability. They are supposed to eat leafy vegetables too but mine does not care for them. Also, be sure to include driftwood for them to chew on for roughage. Plecos WILL devour virtually any plant that you can think to add to the tank. The only plant that mine left alone was a large onion plant (crinum thaianum). Give the pleco large pots, driftwood, ornaments, etc. in which to hide during the day while it sleeps. Light the tank well so that during the night, it will have some natural algae to eat. Also, be sure to provide lots of aeration in their tanks and vacuum up their copious volumes of feces every week with a 30-50% water change. They prefer slightly acid, soft water. They do well from about 68 to 82 degrees F.
Sexing:
I once read that the male's chin barbels are more hooked while the females are smooth. I do not know if this is even true. People who can sex common plecostomus are few. I do know that plecos will fight with each other over territories so stick to a single one, unless you want to breed them or have a huge tank (200+ gallons).
Breeding:
Common plecostomus have only been bred a few times. Some think that is just a myth. Males take up residence in caves where the female lays her eggs. He sort of hangs out with the eggs and hatched fry who suck on whatever is around. The key to their breeding is HUGE tanks, a pair of plecostomus (very hard to tell sex) that get along, lots of surface algae, and few distractions.
---
Description:
Barbus conchonius is the beautiful rosy barb. It is red (male) and yellow (female) with black spots near the rear and on the dorsal fin. Rosy barbs grow to six inches at most. Mine are about three inches and stable, which is a more typical size. They have been bred with longfins, neon reflecting scales, and now a lighter color. I had a pair of longfin neon rosy barbs. They lived with a 7 inch plecostomus in a tiny 10 gallon tank for about a year before they just died. The male had no apparent damage and was the most gorgeous fish I have ever seen, even dead. Chunks of flesh were missing from the female before she died so I assume the plecostomus killed them. They had no signs of illness and behaved normally.
Setup and Water Preferences:
Rosy barbs like slightly acid, soft water between 60 and 75 degrees F. Thus, they can be kept in cooler tanks. They do well with paradise fish, danios, common guppies, etc. Rosy barbs are schooling fish and become less aggressive towards other species of fish and females when in larger schools. Provide about 3-5 gallons per barb, and they will live from 2-10 years. Mine eat most plants that I add but I only had a few plants. In large tanks, lots of hardy plants should be planted on the edges. They are not at all picky and eat anything.
Sexing:
Sexing is very easy. The males are mostly a deep red while the females are a deep yellow. In overcrowded or dirty tanks where the fish become sick, the males lose their color. Females are often the smaller of the pair and wider. Sometimes, one can see what looks like an ovipositor protruding from her vent.
Breeding:
Unless a breeding setup is provided, they will most likely eat all the eggs and fry. If you add them to a shallow container with their water and marbles or coarse gravel on the bottom, any eggs layed should be out of reach. Provide soft plants for her to be pushed against. The eggs will fall into the substrate. A five gallon tank, half filled with a male and two females who are ready to mate at about 75 degrees F is one possibility. After spawning, remove the adults. Fry hatch in about two days. They need small microorganisms and baby brine shrimp to grow up.
---
Why are they so great? Here are eleven reasons!
1. They will not harm any fish of which I know (except small fry when they are hungry).
2. They can be used to feed carnivorous fish, reptiles, and amphibians.
3. They only grow to about two inches on average.
4. They breed just like cichlids!
5. They are so prolific that almost anyone can soon have thousands and yet their breeding is easy to control in an aquarium if you do not want fry. In a pond, natural predators keep them in check while also distracting predators from eating your other species of fish.
6. They can survive from right above freezing to the 90's (degrees Fahrenheit).
7. They make excellent aquarium and/or pond fish!
8. They each have their own personalities.
9. They are beautiful in my opinion.
10. They are inexpensive, typically one US dollar for a dozen.
11. They eat mosquito and other insect larvae and some algae but do not harm higher plants.
The only downside to them is that, since they are sold as "feeder fish" or "bait," they usually have parasites and other health problems due to overcrowding and poor care. Medications and good care can reverse this.
Description and Size-
The species Pimephales promelas is known as both the fathead minnow and the rosy red minnow. The fathead minnows are brown and black whereas the rosy red minnows are a light orange color. Fathead minnows are often sold as bait and are native to the Northeast of the United States, in fast flowing streams. They are also found in as far from there as Chihuhua, Mexico, Louisiana, and Great Slave Lake in Canada. The mutant rosy red minnow was developed because it is more visible. It is often sold as bait and in aquarium stores to be used as "feeder fish." They are wonderful fish, however, to keep in aquariums and ponds. This species is the only known member of the family Cyprinidae in the United States that practices brood care. In other words, just like cichlids, the males protect their eggs and newly hatched young. They stand guard and fan the eggs. Males can grow to 3 inches long and females to 2 inches but in most cases, males are about 2 inches and females about 1.5 inches long at full size. They only live about two years in captivity. In the wild and in ponds, most die young but those that survive may live more than two years because it is as if the winter time of hibernation does not count in their lifetime. Most minnows, however, get eaten before their first birthday but by then they have hundreds of children and grandchildren. Both sexes sexually mature by about six months of age but in my ponds, have been known to breed at only about 2.5 months old! They grow extremely fast in my ponds, growing to about an inch in two months. In my tanks, it takes about five months to grow to an inch.
Care and Water Preferences-
Fatheads and rosy reds come from fast flowing streams. Thus, they prefer fast flowing waters and high oxygen content. At least, that is what I have always provided. I recently read that they are good fish because they can handle low oxygen and lots of waste. I do believe that they are hardy but do not believe any fish should be put in non-ideal setups just because they can take it. They get along with every fish I have tried with them including: guppies, white cloud mountain minnows, danios (any kind), plecostomus, otocinclus, cories (any kind), and in a pond setting, goldfish, koi, and orfe. A solitary specimen or a bunch of female(s) with no male(s) will go insane and try its best to leap to its death (trying to find another minnow?). I would suggest at least 2 females and 1 male in a tank and at least a dozen in a pond. They prefer a temperature of about 70 degrees F if you do not want to vary the temperature. They can survive (and even thrive) from right above freezing into the 90's (degrees F). Thus, a tank without a heater or a pond make perfect homes for them. My fish are kept in soft water where they breed readily but I have read that they also thrive in hard water. They eat flakes, mosquito larvae, other insects, some algae, etc. but only do minuscule damage to plants which they occasionally nibble. They can take a surprising density. I put 6 in a 50 gallon pond. Two months later, there were about 100 fish of .5 inches or larger. I would not start out with more than 6 adults per 10 gallons (if no other fish are added). Two males and two females per 10-20 gallons seems to be the best breeding setup for me (with other species of fish around) while some people prefer two males to four females (with no other fish around). While breeding males do not school, females hang out together and fry school with their own age groups.
Sexing-
Male fathead minnow males get black heads and stripes down their bodies and on their fins. They also get white breeding tubercules like goldfish and fleshy black growths on top of their heads. Rosy red minnow males pretty much lack the color change but do get a clear fleshy growth on top of their heads and barely visible tubercules. Females lack tubercules, fleshy growths, and stripes. They are much smaller, shorter, and plumper. They also have a very visible ovipositor once sexually mature. The ovipositor is a short, fat tube near the vent from where eggs are deposited.
Breeding and Fry Care-
Mature males stake out territories when the temperature is between about 65 to 85 degrees F. They prefer rocks, logs, hard leaves, or other hard surfaces. I provide broken-in-half small terra cotta or clay pots. The male will guard the pot (or rock overhang, etc.) and clean off the site. Egg-laden females are allowed access where spawning takes place. All other fish, especially other male minnows and females devoid of eggs, are driven away. My males never harm these fish and do not stray far from the pot. Two breeding males may get in quite a tussle with head shoving but do not really bite. They can however exhaust each other. Also, females take advantage and eat the eggs if the males get caught up in fighting. Thus, for breeding purposes, it is best that each male have his own pot at least 8 inches apart. During spawning, the male pushes the females rear up onto the hard surface. She deposits eggs on the pot, etc. while he expels sperm. She may return half a dozen times during one day before being emptied. After this, it takes her about 1-3 weeks to be ready to lay eggs again. The male takes over duty of the eggs. He defends them and fans them to keep water flowing over them. He will also remove unfertilized and/or fungused eggs. After about 5 days near 75 degrees F, the eggs hatch. The fry lay around on the bottom and sides of the tank for a few days. Then, they swim at the surface, at the brightest spot looking for microorganisms to eat. Infusuria, paramecium, cyclops, and newborn brine shrimp are all good foods to feed during the first few weeks. The fry can eat exclusively baby brine shrimp after a few weeks if so desired. Depending on temperature and water volume and conditions, the fry will begin eating fish food flakes and other prepared foods as soon as they are large enough to bite at them. For those of you interested in genetics, if a fathead and a rosy red breed, all of their young are fatheads. If these young breed, half of the resulting fry are fatheads and half are rosy reds. This classic genetics scheme was played out when I put 7 fathead x rosy reds in a pond by themselves and now have fry who are about half fatheads and half rosy reds. As more generations have bred in my big pond, I now have minnows that are orange splotched with brown! So, I can no longer say that the minnow must be rosy red or fathead, it can be a visual mix of beauty!
---

Description:

Tanichthys albonubes or the white cloud mountain minnow is a great fish. The picture above looks like a white cloud. White clouds are very docile, small, cooler water fish. They grow to 1- 1.5 inches long and need a few gallons per fish. They are a melange of brown, green, yellow, red, neon blue, and black. Their red can be particularly striking on their lips and caudal fins. White clouds are native to streams in Southern China. They live for 2-10 years. A rare long-finned version of the white cloud is absolutely gorgeous. One strain is called the meteor minnow.

Setup and Water Preferences:

Be sure that you have at least a male and female with more fish being better. They prefer to school and also breed better in larger groups. These are also slightly acid, soft water fish. White clouds do best between about 60 and 75 degrees but can take about 10 degrees cooler or hotter for short periods of time. Thus, like most of the fish on this webpage, they can live in unheated tanks and even ponds during the warm months or in warm climates. Give them lots of plants to hide around. They also sleep suspended in the plants. They eat most anything. Baby brine shrimp are a favorite food throughout life.

Sexing:

The male is thinner and more brightly colored. His red is much more intense. The female has a full abdomen, looking like she ate too much. Males will display against other males and to females by erecting their fins and wiggling.

Breeding:

Place either a mature pair or a few males and 4-6 females that are young together in a five gallon tank with plants, java moss, or "spawning mops." The latter mix in a quarantine tank yielded an unexpected brood of hundreds from fish I thought too young to breed. The water should be between pH 6.5 and 7.5, slightly soft, and near 68-72 degrees F. The male(s) will flash their fins and do a dance to attract females. Then, they will spawn against plants. I witnessed my two year old pair spawning deep in java moss on 9/23/97. Usually, there are only a few dozen eggs but sometimes hundreds. Remove the parents (optional). The eggs hatch in about two days. After a few days more, feed small microorganisms like infusuria (paramecium, etc.), liquifry, and soon after, baby brine shrimp. White clouds, unlike most other fish, do not eat their eggs and fry with relish. They will eat some but in tanks with just white clouds, some fry should reach adulthood. Thus, you do not have to remove the parents. Fry have extraordinary blue eyes and a blue stripe on their side, resembling neon tetras. Once they can take brine shrimp, they are very easy to care for.
---
Description and Varieties:
This is complicated. There are many varieties and species of danio which can interbreed. I will describe each one separately. There may be even more kinds. If you know of one, E-mail me. All of these danios have barbels and the same body shape and can interbreed to produce fertile young.
1. Brachydanio rerio = zebra danio = zebra fish. The regular zebra danio has black and yellow to white stripes down its body and on its caudal and anal fins.
2. Brachydanio "frankei" = leopard danio. Leopard danios, which some believe are a different species and others believe simply a different morph of zebra danios, have black spots over a yellow background.
3. Blue danios are a mix of blues and yellow whites in a spot pattern so most likely they developed from a leopard danio.
4. Gold danios are also called albino zebra danios. They are definitely just a morph of zebra danios. They have orange where the zebra danio has black.
In addition, all of the above fish come in longfinned varieties. Below, these additional fish can provide viable, but infertile, young when mated with the above fish and each other.
5. Brachydanio albolineatus or the pearl danio is iridescent and requires warmer water.
6. Brachydanio kerri looks like the pearl danio but with stripes.
7. Brachydanio nigrofasicatus is the spotted danio. It has black lines and spots over a yellowish body.
Setup and Water Preferences:
I will be referring to zebra, blue, leopard, and gold or albino danios all as danios. This does not include the other species who may have different requirements (especially the unmentioned giant danio). Danios prefer slightly acid, soft water between 60 and 75 degrees F. They can take temperatures about 10 degrees hotter or colder for short periods. They make good companions for white clouds and rosy red minnows. Be sure to keep them in a school, at least three with 6- 10 being better. Danios can pester each other and other fish but never do any real harm. Provide at least a few gallons per danio. Danios can live from a few years to as many as ten. They usually stop breeding after a year or two. They really eat anything but they relish their own newborn fry and baby brine shrimp.
Sexing:
Males are more slender. Females are fat. In the ordinary zebra danio, the males yellow white areas (stripes and on the dorsal fin edge) are a much stronger yellow.
Breeding:
As soon as the lights are on (real sun or artificial light) in the morning, the danios prepare to spawn if they are ready and the temperature is in the mid to high 70's. The males chase the females. The spawning looks almost violent with large quantities of eggs being laid in the plants. Java moss, artificial spawning mops, and pots and woods (they spawn in the crack between the object and the gravel) are favored places to leave the eggs. Because danios eat all of the eggs and fry that they can reach, to get young, you must either remove the parents after spawning or collect the fry. I have collected the fry in two manners. One is during the weekly vacuuming of the tank. Large numbers of developing eggs can be sucked out of the bathtub to which I drain the tank. Another way is to use a pipette to suck them off the glass where they congregate after lights out when newly hatched. To obtain larger yields, the parents must be removed. In this case, place a male and a few females in a 5-10 gallon tank with marbles or medium sized gravel in the bottom. Put them together in the evening. If ready, they will spawn at dawn. After spawning, the parents are removed and the yields are much higher (about 100- 500). After birth, the fry attach themselves to the glass for a few days. Once they are free swimming, they go towards light, and it is time to feed them. The fry eat infusuria, prepared fry foods, and later baby brine shrimp. For an in depth discussion of breeding in bulk for experimentation or selling, visit The Zebra Fish Book.
Interbreeding:
The following crosses have been tested by my fish:
Short-finned x longfinned yields longfinned fry
Two of the exact same kind yield that same kind fry
Blue x gold yields ordinary zebra danios
If you have any others that you have tried, please E-mail me and I will add them to the list.
---
Number of Visitors since 10/3/97 =
---
I have a guestbook which you can sign or view at the bottom of my homepage.
---
Back to Main Fish Page
Index to Robyn's Web Pages
E-mail Robyn | Homepage | Cover Letter and Resume
Mammal Page | Other Animals Page | Fishy Page | Fishy Page Too
Pond Page | Pond Animals Page | Aquatic Plant Page