---
FTC Disclosure: Fishpondinfo contains affiliate links, and, if you click on such a link and make a purchase, and I meet their minimal requirements, then I will be compensated.
---
A Yellow-Billed Cuckoo
Last Updated: 11/22/06

On 6/1/04 or so, I caught a glimpse of a bird I had never seen before. Yet, it seemed familiar. Its beak was curved. The bird was big and mostly grayish brown. The evening of 6/3/04, it was dead on the back porch after failing to fly through the glass screen door. Using two good bird books, I was unable to find a match. We are in Central Maryland. The bird measured 10" long with 6" of body and 4" of tail. Finally, someone identified it as a yellow-billed cuckoo. While not a rare bird, it is rarely seen and is in decline. I have certainly never seen one before. I thought someone might like to see some photos.

Here is a Cornell Lab of Ornithology Page on the Yellow-Billed Cuckoo with a photo (of a live one!), information, and a recording of its call.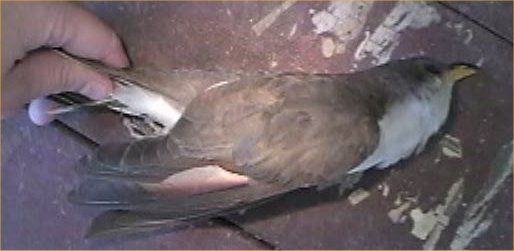 Side View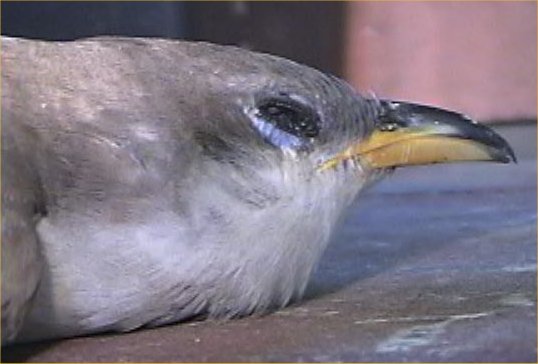 Head

Top View

Bottom View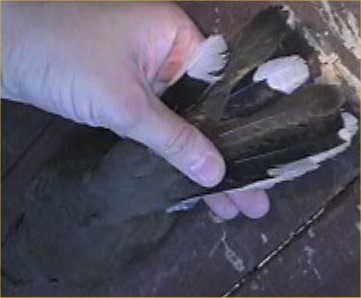 Top of Tail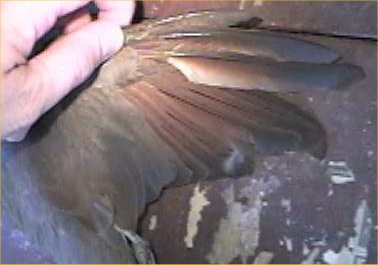 Top of Wing
---
---
---
Go to the Main Bird Index.
Go to the Chicken Index.
Go to the Turkey Index.
Go to the Pond Bird Index.
See the master index for the bird pages.
---


Copyright © 1997-2023 Robyn Rhudy