---
FTC Disclosure: Fishpondinfo contains affiliate links, and, if you click on such a link and make a purchase, and I meet their minimal requirements, then I will be compensated.
---
Robyn's Pond Book Page
Last Updated: 8/9/15
Do you like Robyn's Pond Pages and want to read them all but do not want to wait for a slow internet connection, read off a computer screen, or print countless pages? Then, you need Robyn's Pond Book! No electricity required, no irritating colors, no waiting, no banging your head on the computer screen, no blurry vision, no wasted paper!
Do you know a pond keeper for whom you need to buy a gift? Try Robyn's Pond Book! It's guaranteed that they don't have it! Whether they haven't started their first pond or are experienced, they will learn something from Robyn's Pond Book or at least enjoy my stories! People who had no interest in ponds whatsoever have told me that because of my site, they had to have a pond!
If you answered yes to any of these questions, then you want Robyn's Pond Book!
Order Robyn's Pond Book on-line at Authorhouse.com or call 1-888-280-7715 now!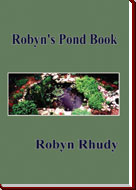 See my pond flyer! - You can print them out as handouts if you like!
I now have a pdf version of it as well that requires Adobe Reader. Note that the links and e-mail on the pdf flyer are for my old web site.

Index:


Additional Information on Other Pages:
Who is Robyn Rhudy?
What is Robyn's Pond Page?
What have others said about Robyn's Pond Page?
What is Robyn's Pond Book?

Title = Robyn's Pond Book
Author = Robyn Rhudy
ISBN # = 0-7596-7538-4
Library of Congress Control Number = 2002100512
Number of Pages = 319 (292 in the body, 27 in the index, etc.; down from the original 364)
Size = 8.25" x 11"
Binding = Standard paperback with full color cover
Cost of electronic book for downloading = $4.95 (1350 K)
Wholesale cost (anyone can buy at Author House) of paperback 8.25"x11" book = $16.95
Retail cost of paperback 8.25"x11" book = $26.95
Distributor = Authorhouse.com (formerly 1stBooks)
Alternate sources = amazon.com, Barnes and Noble, Borders, Buy.com, Walmart, Super Book Deals, and A1 Books
Number of books that must be sold for Robyn to cover publication costs of over $1000 and break even (they only give me a percentage of sales) = 395 e-books or 212 wholesale books or 267 retail books (this does not include the cost of hundreds of dollars of books I will be giving away.)
Here is the direct Amazon.com link to my book:

In the Fall of 2000, I spent hundreds of hours converting my hundreds of pages of pond-related web pages into a publishable book on ponds called Robyn's Pond Book. When my distributor fell through, and many people made me realize that no one would want to buy my book, I decided not to publish it. It would have cost me $3000 for the minimum of 200 copies. With a $5 profit per book, it would have sold for about $30. I would have had to sell 150 of them to break even. I doubted that I could have sold even five.
In February of 2001, I caught my breath from all the work I had been doing at work and home to think about the book again. I did not want all my work to go to waste. So, I decided to make the book available on-line for free as a download. My brother was going to put it on his site but told me I should try to have it published via print-on-demand. I hadn't done this before because of the severe restrictions on book size, no color, restricted formatting, etc. After doing some research, I decided to go ahead and re-do the book without photos and with the strict formatting required to have it published with 1stbooks.com (now called Author House). They were very helpful, and so the book is now a "real book." It took them seven months.
This book includes almost everything that was on my pond-related web pages as of August 2001. The book will NOT be updated over time (it would require another printing). There are some things in the book that are not on the web pages and some things on the web pages that are not in the book too. Over time, the web site will have more and more things that are not in the book. The book includes extensive plant tables but with the prices omitted and more entries. An extensive table of contents at the beginning allows various topics to be looked up easily. The book also has tables for water chemistry and pond inventories for your own ponds. Because it is a print-on-demand book, there are no photos in the book (I made pages of photos but had to remove them, sorry!).
Robyn's Pond Book is available as both an electronic book that you download and a real 8.25"x 11" softcover book.
For comments that people have sent me about how much they like my pond web site, see my pond comments page.

Both versions of the book can be ordered directly from Authorhouse.com whose site includes more information on the book.
The book may also be bought from Amazon.com, Barnes and Noble (on-line), Borders.com, Walmart.com, Buy.com (they have free shipping), Super Book Deals, A1 Books, or any other large book company that sells print-on-demand books. You may have to request it from book sellers not listed here. You can ask any major book store to order a copy of the book for you (just give them the ISBN). Buying through Author House is $10 cheaper than retail so it is your best bet!
If you live outside the United States, then you can order from the Amazon.com that is found in your country to save on shipping and to order in your native language (the book is only in English though). For example, my book can be found at:
Amazon.com for Germany
Amazon.com for Canada
Amazon.com for the United Kingdom
Amazon.com for Japan
Amazon.com for France
You can also order the book directly from Author House by calling
1-888-280-7715.

For a few book reviews of Robyn's Pond Book, you can see amazon.com under the book's title.
The Midwest Book Review also reviewed my book at this site.
I stumbled upon this book review:
Mystic Living Today - review of Robyn's Pond Book.
See the top of my main pond page for a complete list of articles and references on Robyn's pond book, site, etc.

I can do local book signings in central Maryland. If I do signings, I will add a notice here. I am also willing to consider doing free articles, book excerpts, interviews, and talks for magazines, newspapers, libraries, bookstores, stores, clubs, etc.
I can do limited personalized/signed books for special situations and mail out signed copies. I can do this for pond-related clubs or events and on a very limited basis, for individuals. How many I do depends on how much demand there is. If I get too many requests, I will have to restrict the number of copies I personally send out as it takes time to package and mail them. Prices will be wholesale. Shipping is additional and depends on where the books are going and how many are sent. It runs about $5 for the box and shipping book rate for one book in the USA. Because I have to order the books first, books will take an extra week or so to arrive unless I have extras at the time.
If you wish to review Robyn's Pond Book for the media, let me know, and I will send a free copy of the book.
I also have limited quantities of business cards, bookmarks, flyers, and postcards with my book on them for promotional purposes. Requests will be considered on a case-by-case basis as I have few of these. When they're gone, they're gone. I may give out a few free copies of my book if presented with a promotional incentive or a special reason so it doesn't hurt to ask.
Contact me for information about any of these things or anything else.

1. I have since discovered that my common pleco is not Liposarcus multiradiatus but probably Liposarcus pardalis. See my plecostomus page for more information.
2. There are lots of additions to my web site that were not in the book including information on pond mammals and birds, pond setup, roach and rudd, fish health, many new links, and more. Also, the animals and plants that I have will be constantly changing from those in the book. To see what new information I have added to my web site, see the pond newsletters under altered web pages and web sites of interest. The newsletters also contain new information not found in the book.
3. The product CSA which I recommend on my site and in the book cannot be ordered via the web site or phone number listed in the book. The same product called BZT Aquaculture is sold at United-Tech, Inc..
4. I have discovered a number of URL's that are no longer functional in the book. If you have the book and a URL doesn't work, check the current web page from which that section came or try searching for key words related to the link. Many URL's are corrected on my web site.
5. The company Pets Warehouse which is listed under pond catalogs, a source for barley straw, and perhaps a few other locations in the book was bought out by Drs. Foster and Smith. Therefore, the web site URL and phone numbers listed in the book no longer work. The new URL is http://www.DrsFosterSmith.com and the new phone number is 1-800-826-7206. The old phone number may continue to work for a while but the old URL is gone.
6. I wrote the book in 2000 and 2001. But, due to its late actual printing in 2002, the copyright now reads 2002.
7. The last few tables in the book are meant to be filled out by the person who buys the book. Unfortunately, I tried repeatedly to get them to enlarge the height of the rows to allow more room for filling in the table but they just didn't "get it." So, the tables are squished together.
8. The book says that I have never had a turtle. That is no longer true. See my painted turtle page for information on my Eastern painted turtle. Of course, she later ran away. Later, I had a snapping turtle baby for a short time.
9. The scientific name for watercress is mentioned three times in the book. While one source I have spells is as Nasturtium offinale as it is in the book, another source spells it as Nasturtium officinale which I think is the correct spelling.
10. The web site http://www.fishbreeding.com that is listed under the breeding section has plagiarized my web site. I had never really looked over the site but someone brought it to my attention. Over half the site is word for word from at least nine of my web pages (setting up aquariums, plants and driftwood in aquariums, fish health, bluntnose minnows, rosy red and fathead minnows, zebra danios, and UV sterilizers). They mention my old web site in a few locations claiming they got permission but that is not true.
11. The cover is not what I would have preferred. The cover design is completely at the discretion of 1stbooks (now Author House). They used a photo I sent them but not my prepared cover which had drawings of cattails and a dragonfly and a different pond photo. Green is my favorite color but they picked the one shade that I do not like! I also think the title should be large and my name small but both are moderate and equal in size. Oh well, you take what you can get.
12. One problem that was not evident with the galleys (sample books) was that all the URL's (web site links) are a much lighter color in the actual book. It looks very unprofessional. It is also not consistent because some URL's were not recognized as such and thus were simply underlined. They appear much darker than the other URL's. Sometimes, part of the URL is light and part is dark.
13. The book itself was re-formatted by 1stbooks (now Author House) to their standards. There are a number or things about this that I do not like. First, the index looks nothing like the one that I have and is not very visually pleasing. The Page i should start with the index but they numbered the previous pages as well. They set the text lines to fit all the way to the right. This results in some lines with few words having huge spaces between words. That looks bad. I had line spacing between paragraphs for easy reading. They removed most of those but left some. Some pages have multiple paragraphs with some having spaces and others not having line spacing. There is no pattern. They also changed some of my font sizes. I tended to hard return new topics onto new pages. They did not so that the book is shorter but much less visually appealing. The book I sent was 364 pages, and they fit it into 292 pages. It took them three attempts to put my tables in landscape (as they were sent) and not portrait orientation. A number of symbols within the book were deleted including a nice snowflake in the winterizing section. The last tables in the book meant to be filled out by the person who gets the book were altered so there is very little room to write in the table. These are just a few of the things that I do not like about the book.

If you are interested in receiving updates on Robyn's Pond Pages and pond information, sign up for Robyn's Pond Newsletter by going to my pond newsletter page.
---
---
---
There have been 51,181,002 file views (file views since 2006, page views before that) to Fishpondinfo from December 1, 2003 through August 17, 2019 (stats lost after that).
---


Copyright © 1997-2022 Robyn Rhudy