---
---
Fishpondinfo Newsletter Fall 2010
Last Updated: 10/10/12
Issue 105
---
Happenings
In 2006, I made a few pages in the frog directory. I started moving the other amphibian pages in 2008 but it was not until 7/3/10 that I finally finished! Whew! See http://www.fishpondinfo.com/frogs/index.htm for the old stuff with improvements and additions!
My last original orfe died 7/28/10. I only have two left.
On 7/31/10, I did a 100% cleaning of the 12 gallon nano reef tank. Details are here.
With this newsletter, I am up to 650 separate web pages on my Fishpondinfo site.
Sadly, both of the local pond/koi festivals that we have here were canceled this year due to the economy. I was considering trying another Sanke koi and/or more orfe but that is no longer an option.
---
New Pages on Fishpondinfo
Pond Showcase - Athreya's Pond
Amphibians - I finally finished moving the frog, toad, salamander, and newt pages, now 28 strong!
---
Web Sites of Interest
Flowering Rush as the Plant of the Day
How Frogs Work - a very interesting article
---
Animals
This is a photo of the limpets that live on my PondMaster filter in my 153 gallon pond, taken 8/8/10. Limpets are mollusks that have half a shell which is towards the outside world while their foot faces whatever it is that they are stuck on. They feed on the algae and microorganisms growing on the filter. Because they return each year to the filter, they must also grow on the liner. There are also a few midge larvae in the photo.
[Update 10/10/12: Yesterday, upon seeing photos of ribbon leech cocoons (eggs), I have come to believe that I have never had limpets in my ponds. I think they are leech cocoons. I am deeply sorry for this HUGE mistake!]
I delayed working on the newsletter and then ran out of time and ideas so this newsletter is very short on information. Since I have gotten zero feedback about my new newsletter, I do not even know if anybody is reading this!
---
Plants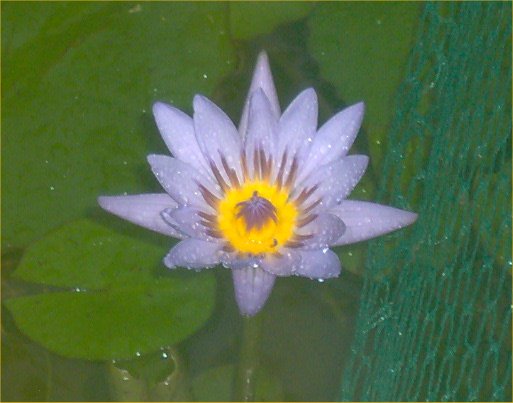 It is tropical waterlily flowering time! This is my only tropical waterlily in flower on 8/15/10.
What plants do you want me to talk about?
Equipment
What equipment do you want me to talk about?
---
Wind & Weather sells neat things for your garden!
---
---
Newsletter Archives Directory
Newsletter Information - includes how to join
---


Copyright © 1997-2018 Robyn Rhudy