---
---
Fishpondinfo Newsletter Spring 2011
Last Updated: 6/12/12
Issue 107
---
Happenings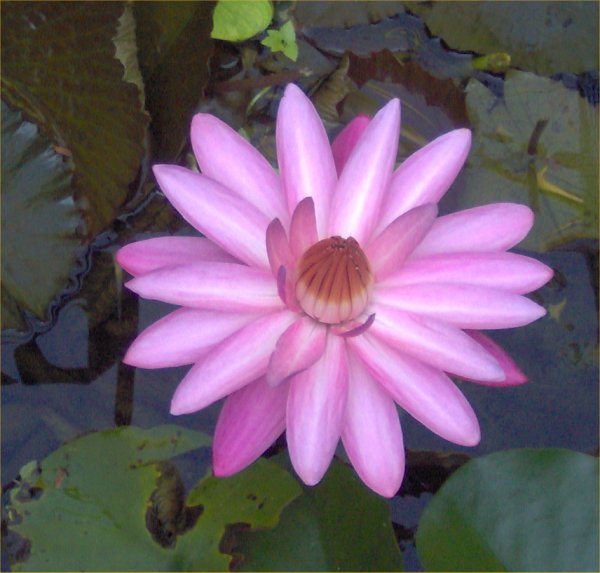 Spring is coming! Yay! It is the busiest time of the year for me but also the most exciting.
The photo above is from 8/3/08 of the tropical waterlily I had.
My poor male fantail goldfish Aragorn who lived in my 65 gallon aquarium with Legolas and Plecy finally succumbed to fish tuberculosis on 12/25/10.
---
New Pages on Fishpondinfo and Pond Showcase
---
Web Sites of Interest
Ron's Pond Scum - microscope photos of pond microorganisms.
A beginner's guide to koi and koi ponds - this link was suggested by Mrs. Anne Hughes. She asked me to give a shout out to her wonderful students! You are very lucky to have such a great teacher who is helping you to learn and putting in a pond!
---
Animals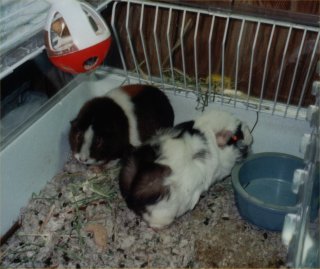 I have been wanting to get some guinea pigs again. Years ago, I had two boys and then later two girls (above). I want to make a deluxe home like the ones you see at http://www.cavycages.com. Guinea pigs make one of the best first pets for children over the age of five. They are active, interesting, soft, vocal, and entertaining. G-piggies rarely bite. About their only downside is that they will pee anywhere, and it doesn't smell very good! Many cavies, as they are also called, end up unwanted and needing homes. If you are interesting in getting one, check out your local rescue.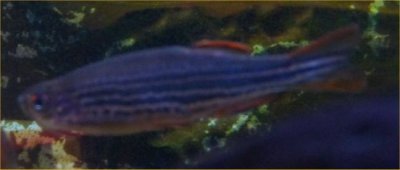 Blaise sent this photo of his special zebra danio. It has red-tipped fins and some mottling at the bottom stripes. My theory is that it is a crossbreed with the celestial danio which is mottled with red fins.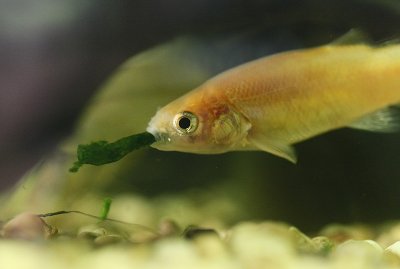 Judy's female rosy red minnow named Peach.
---
Plants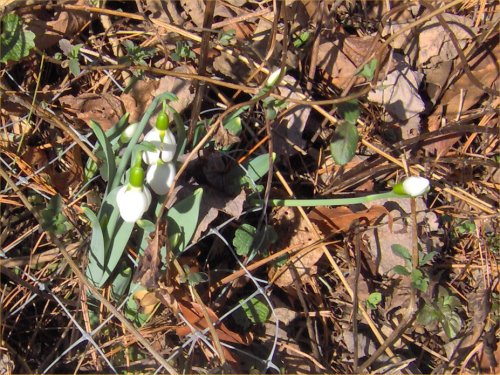 Around the yard and ponds, I have planted a lot of bulbs. The first flowers of the year bloom in February, the snowdrops (above on 1/6/07, a year that they bloomed almost two months early due to extremely warm temperatures). The deer have not bothered them, and they flower for a few weeks. Then, the crocuses come in March. The deer eat any that are not caged. Along with those come the snow iris, another favorite. Iris are rhizomes and not technically bulbs. By April, the main bulbs (daffodils, hyacinths, and tulips) start to bloom. Daffodils are my favorite because the deer leave them alone for the most part. There are hundreds of kinds available. The fawns will bite off a flower and then drop it once they learn they are bad to eat. Squirrels and rabbits sometimes do the same (behead the daffodils). I have no luck with tulips as the animals really love to eat those; even cages will not keep them off. Both standard hyacinth and grape hyacinth are great for color and smell. Sometimes they get eaten, and sometimes they do not. I have some exotic bulbs as well; in fact, I do not remember their names offhand. Most barely hang on. Later in the spring and in to summer, the alliums and iris bloom and provide some much-needed color. Iris blooming around my pond in May are one of the highlights of spring. Pond or no, if you have some land, even a pot on a deck, you will benefit from the beauty of spring- (and summer and fall) flowering bulbs. For photos of many of these flowers, see my garden page.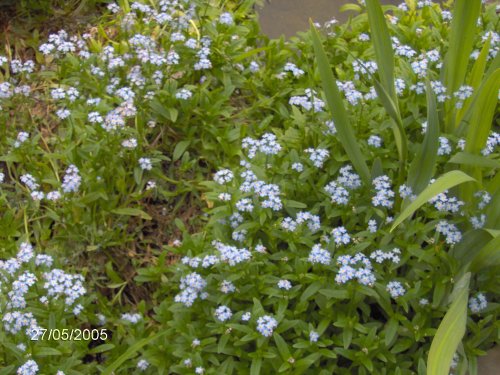 Forget-me-nots in my pond on 5/27/05. Few survive today but they used to be all over.
What plants do you want me to talk about?
Equipment
For pond work, there are many common tools and items that are helpful that are rarely mentioned. Among them are shovels, buckets, towels, kiddie pools, trimmers (for cutting plants), wheel barrows, boots, hip waders, gloves, rocks, bricks, clay pots, lists (for tasks and records), spoons (for removing pump screens), screw drivers, and so on. For aquariums, there are also buckets and things like pantyhose (to cover filters for fry or to hold media), plastic pipettes (to move fry or dose liquids), Vaseline (to grease up o-rings; smear a little on if your filter's biowheel tubes are stuck), toothbrushes (to clean out lines), cups, and so on. I use a lot of plastic litter buckets! They are great for carrying supplies, mixing up salt solutions, temporarily holding animals, hauling plants, holding pond or land plants until I can get to planting them, storage, and so much more. Plus, if you have cats, they are "free." What is your most unique aquarium or pond helpful tool? Let me know, and I'll share the best entries in the next newsletter. [See here for more on aquariums and household supplies.]
What equipment do you want me to talk about?
---
Wind & Weather sells neat things for your garden!
---
---
Newsletter Archives Directory
Newsletter Information - includes how to join
---


Copyright © 1997-2018 Robyn Rhudy