---
---
Fishpondinfo Newsletter Summer 2010
Last Updated: 6/4/10
Issue 104
---
Happenings
I was devastated to discover that the dead "goldfish" I could finally get to and remove from my pond on 3/7/10 was my baby koi, Mac.
My list of affiliates has grown with the addition of the third place that I buy the most animal supplies from - Pet Food Direct. I get almost all of my cat and rabbit foods there. They carry many brands of organic foods and treats as well as some products I cannot find elsewhere. You can enter their site from the top right corner of my web pages.
Just for fun, I put some animated cursors on my web site. There are twelve different cursors on twelve pages. I know that some people hate them but, since I have 619 pages on my site (really more), the cursors are on fewer than 2% of the pages. I bet you can't even find them!
On 4/7/10, I added 12 Japanese trapdoor snails, 13 of their babies, 6 bullfrog tadpoles, and 6 clams to my 1800 gallon pond. The clams are a first for me. Photos and information can be seen on this page.
I am constantly adding photos to my web site that I took and that were sent to me, from 10 to 100 a month. I only put them on the relevant pages (from one page to sometimes three or four). Any that are pond related are mentioned in my blog but, otherwise, one would have to go to the relevant section to see the photos.
On 5/5/10, I put the one shubunkin and four bitterlings from my 50 gallon basement pond out in the 1800 gallon pond.
---
New Pages on Fishpondinfo
153 Gallon Pond Cleaning 3/31/10
---
Web Sites of Interest
Tadpoles that make sounds - scientists find that horned frog tadpoles "scream" when attacked.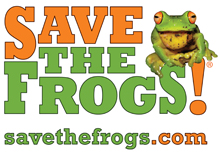 Freeprintable.net - tons of free stuff to print including coloring book pages with lots of animals.
---
Animals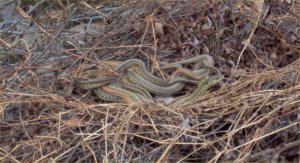 This is a mating ball of garter snakes that my niece found at the park on 3/25/10. When the snakes come out of hibernation, they get together. Later in the spring and summer, I sometimes see garter snakes in or near the pond. They are not as adept at catching fish and frogs as water snakes so they mostly come over on hot days for water.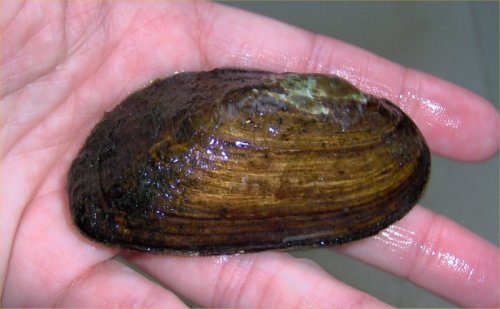 One of the clams that I got on 4/7/10.
Spider trying to kill an Asian stink bug for hours - Stink bugs must be immune to the spider's venom, or the spider could not penetrate the insect's exoskeleton. In the last year, Asian stink bugs have taken over our house. You cannot walk through the house without seeing at least half a dozen. The cats have long ago lost interest. When disturbed, the stink bugs release a mild bad smell. They can fly around but mostly skulk about. Outdoors, they eat plants but I do not have a clue what they are eating inside the house. This winter, there were hundreds in the attic just hanging out, waiting for spring.
What animals do you want me to talk about?
---
Plants
Snow iris blooming on 3/21/10.
Of all the plants we have planted around my pond, the lemon balm has taken over the most. It is in the mint family. Some people make a lemon mint tea from it. By my smaller ponds, the spearmint has spread like mad while the older mint (not sure which kind) is now in second place. Ground ivy (an invasive plant in the mint family) has taken over a lot of the mowed areas, and I also have to pull it from the main pond garden now. If it were not for all of these plants, there would be a lot fewer green plants around.
What plants do you want me to talk about?
Equipment
What equipment do you want me to talk about?
---
Wind & Weather sells neat things for your garden!
---
---
Newsletter Archives Directory
Newsletter Information - includes how to join
---


Copyright © 1997-2018 Robyn Rhudy