---
---
Snail Species
Last Updated: 4/20/12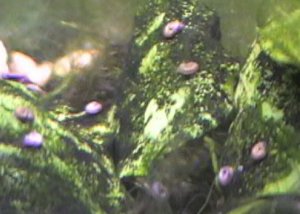 Some of the tiny ramshorn snails that showed up in my 20 gallon tank and have since spread to all my tanks and ponds, taken 4/22/01.
Aquatic Snail Species
Note: I include the Latin names if I know what they are. If you know any of the Latin names for the species that I do not, or if you have any additional snail information, please e-mail me. Information on pond snails is sorely lacking on the internet and in books. The various scientific names match up to different common names and vice versa in almost every source I find! The pond snails are bad enough; the land snail information is basically non-existent! Sorry, I do not have any extraordinary information on land snails. I am not a snail expert. This is merely information that I have compiled from experience, the internet, pond magazines, and e-mail correspondence.
This page is here in case I get information, photos, or links on a species of snail not previously discussed but not enough to require a new page for it.
---
---
Wind & Weather sells neat things for your garden!
---
---
Return to the main mollusk page.
See the master index for the mollusk pages.
---


Copyright © 1997-2018 Robyn Rhudy