---
---
Foxes
Last Updated: 9/5/08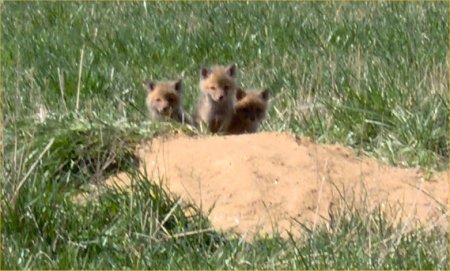 Three fox kits by their den on 4/13/05. See another photo below.
On this page:
Foxes and Ponds
Our Foxes
Fox Photos
On my chicken pages:
Chicken Predators
---
Foxes may come to ponds to drink or fish. They usually do not do much damage. As with similar predators, they can be kept from eating fish with fencing, netting over the pond, deep water, a cliff from the ground to the water, and/or lots of hiding plants (mostly plants) for the animals.
---
We have red foxes that come through our land almost nightly in the warm months. On 3/24/08, foxes dug in to our chicken house and killed two of our chickens. You can read the story here. Other than that, I have not known them to cause problems with the ponds or other animals. The biggest complaint is that they often wake us up when they yelp in the middle of the night.
---
Here are two photos of three red fox kits on their den on 4/13/05 on a nearby property (used to grow hay for cattle): kits and kits (same as above photo).
---
---
Wind & Weather sells neat things for your garden!
---
---
Go to the Main Animal Index.
See the Master index for the animal pages.
---


Copyright © 1997-2019 Robyn Rhudy