---
FTC Disclosure: Fishpondinfo contains affiliate links, and, if you click on such a link and make a purchase, and I meet their minimal requirements, then I will be compensated.
---
Animal Index
Last Updated: 11/14/14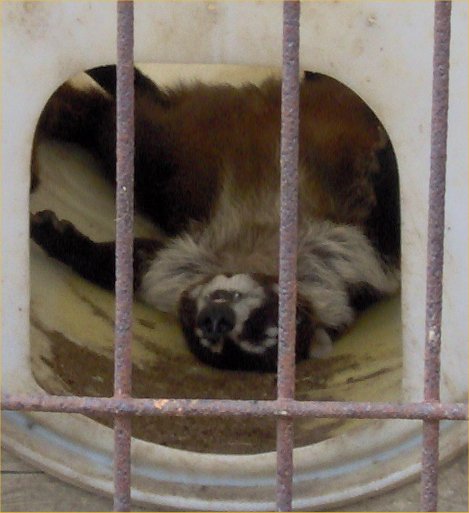 Thanks for hanging around! I could not resist putting this photo of a sleeping coatimundi up somewhere on my web site! I took the photo at the Land of the Little Horses on 7/29/07.
The main animal index is where one should go to find animals on this site for now. I am moving files around right now.
This page links to various animal web pages that do not fit into my other subdirectories. These include my pages on dogs, anoles, and more.
To see a list of pages on the animal subdirectory, go to the Animal Pages Master Index.
A complete list of my animals can be found here.
Here are where animals can be found all over my site.
Domestic Mammals:
Cats
Dogs
Guinea Pigs
Hamsters
Hedgehogs
Pet Mice
Rabbits
Wild Mammals:
Deer
Foxes
Raccoons
Squirrels
Others
Birds:
Birds of Prey
Chickens
Miscellaneous Birds
Pond Birds
Songbirds
Turkeys
Reptiles:
Anoles
Curly-Tail Lizards
Sailfin Lizards
Snakes
Turtles
Wild Animals - general
---
---
---
Go to the Main Animal Index.
See the Master index for the animal pages.
---


Copyright © 1997-2023 Robyn Rhudy