---
FTC Disclosure: Fishpondinfo contains affiliate links, and, if you click on such a link and make a purchase, and I meet their minimal requirements, then I will be compensated.
---
Robyn's Ponds

Last Updated: 1/30/14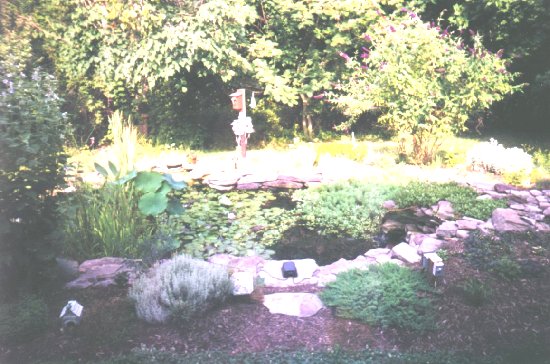 My big pond on 7/3/99, facing west, taken from inside.

My Pond Setups
They are listed from my first pond to my most recently built pond.
50 Gallon Rubbermaid Tub Pond - Demolished 6/13/99
1800 Gallon Liner Pond
16.5 Gallon Liner Pond - Demolished 3/19/12
12 Gallon Lotus Tub Pond
20 Gallon Outdoor Tub Pond
2 Gallon Pot Pond
50 Gallon Tub Pond
153 Gallon Liner Pond
~20 Gallon Mosaic Pond
12 Gallon Tricker Pond
20 Gallon Inside Tub Pond
50 Gallon Inside Rubbermaid Pond
30 Gallon Back Liner Pond
Other Pages Relating to My Ponds
My Pond Pictures
153 Gallon Pond Cleaning Information and Index
Labor Day Story of Repotting Three Iris on 9/4/06
My Outdoor Goldfish
My Koi
Problems with My Big Pond
How I Got Started Ponding
---
Quick information on my big pond can be found at an old archived site which is part of a list of people's pond setups. Go here.

Robyn's Pond is featured on Page 119 (with information mistakenly on Page 118; and I have fathead minnows, not fathean minnows) of the 2000-2001 Ponds USA and Watergardens Annual by Fancy Publications. It is also in the Koi World and Watergardens 2000-2001 Annual with the photos on Page 104 and the information mistakenly on Page 100.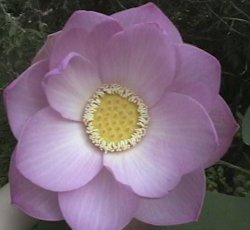 A lotus flower in my 50 gallon lotus tub pond on 8/3/02. This is a first day flower in the morning.
---
---
---
Go to Robyn's Aquariums and Ponds Index.
Go to Robyn's Aquariums and Ponds Master Index.
Go to Robyn's Tanks.
Go to Robyn's Ponds.
---


Copyright © 1997-2023 Robyn Rhudy