---
---
Fishpondinfo Newsletter Summer 2011
Last Updated: 6/4/11
Issue 108
---
Happenings
I did not get a single entry for unusual aquarium or pond supplies but I remembered another that I use because I just had to order some more: diaper pins. I use them to close the circle of filter floss/material that wraps around my largest pond pump.
I mentioned in the last newsletter that I wanted to get guinea pigs again. The plan was to wait until the rabbits had passed on but I came home on 3/14/11 to find out that my mother had bought a male guinea pig. After he recovered from ringworm and was neutered, I ordered two girls for him. Abby came home on 5/27/11. We are waiting on Daisy. You can read about Brownie on his page and Abby on her page.
My hermit crab, Crabby, was found on 4/9/11, and he had died a few weeks earlier. I do not plan to ever have one again.
I contacted a pond builder and two landscapers about working on my 1800 gallon pond which is falling apart. The pond builder would only do a 100% redo which my mother forbids. One landscaper never responded. The other came out and had great ideas but then he gave me the run around, not sending e-mails when he said he would, not calling when he said he would, and not showing up when he said he would. I had to give up on fixing the pond that way. All the other pond builders only do Aquascapes ponds which I do not want.
I ended up making a lot of pond renovations myself by adding another pump that dumps in to the main waterfall, redoing the overflow to add back four inches of lost water depth, putting in a walkway in the area that floods next to the pond, and more. Unfortunately, I also bought and added eight new fish without quarantining (I normally do but others do not so I thought I could get away with it) which resulted in almost as many fish dying from a horrible bacterial and/or fungal infection that hit the pond. Trust me, you don't want to skimp on the quarantine. If it is too much of a hassle as it was for me, then forget about adding new fish. It is all in my pond blogs.
I am sorry that I have had no time to work on my web site this year at all. It is only going to get worse as I am changing jobs within the company. I have to do my old job, train others to do my old job, and do my new job all at the same time until fall. The chemistry department is moving to Des Moines after Labor Day. I am not. I will be doing paper work instead. My career is over. I will no longer be a chemist. I am not sure how long it will be before I am unemployed. If that happens, the benefit would be that I could work on my web site more, at least until I got a new job. I have really an infinite amount of photos and information to add to my site. I do not make enough money from my site to warrant working on it; I do it because I want to put the information out there. Due to my neglect and no time to add more information (even though I have a TON of it in my head and in my saved e-mails), the number of visitors to my web site this year are half what they used to be. It pains me to watch my web site dying.
---
New Pages on Fishpondinfo and Pond Showcase
153 Gallon Pond Cleaning on 3/30/11
---
Web Sites of Interest
None this time around.
---
Animals
Due to lack of time, instead of providing information this season, I will show you some of my favorite photos from this spring:
Pigtopia (the guinea pigs' home):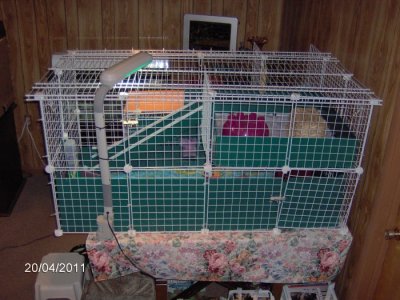 My favorite deer making a funny face for the camera: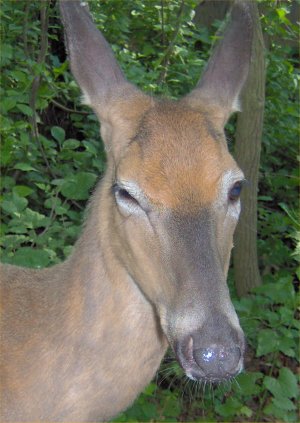 My cat Tinkerbelle: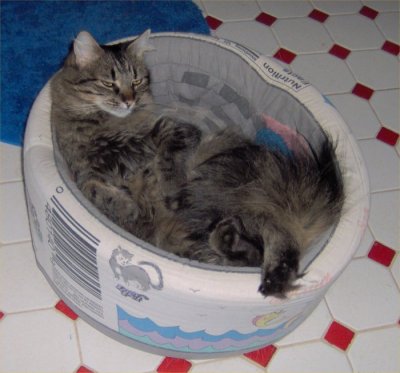 A female gray tree frog that was in the laundry room. She got cat hair on her.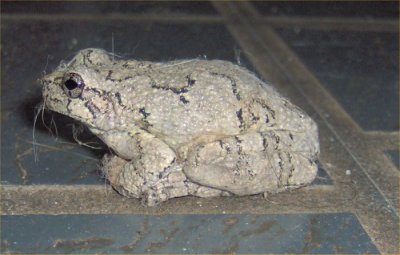 ---
Plants
I took a lot of plant photos this spring. They are on my garden page.
What plants do you want me to talk about?
Equipment
What equipment do you want me to talk about? Is anybody alive out there?
---
Wind & Weather sells neat things for your garden!
---
---
Newsletter Archives Directory
Newsletter Information - includes how to join
---


Copyright © 1997-2018 Robyn Rhudy