---
---
Robyn's Pond Pictures Page
Last Updated: 10/14/13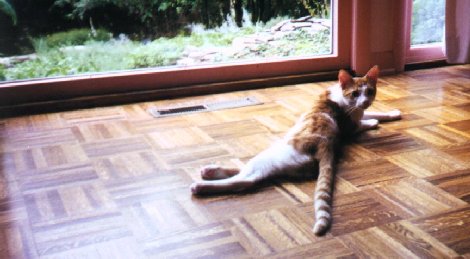 Do you mind? I was looking at the pond! (Gino with the big pond behind him through the glass, 8/21/99).
I finally divided this large page up! This page just contains the index which links to the six additional web pages of photos!
Pond Pictures Index:
Big Pond Photos of the Pond and Plants:

Winter Photos of the Big Pond:

Fish:

Photos of Other People's Ponds, etc.:


For information on the details about my various ponds, go to the pond descriptions. For information on the various animals, go to the main pond index and look up that animal for tons more information and lots more photos sometimes too!
Photos are arranged from newest to oldest in most cases. Photos from one section may also have been able to go in another. For example, the fish and frog photos also show the ponds in most cases. So, check out all sections!
"Hey, where are all the pictures?" To save page loading, all the photos below are accessed by clicking on the underlined words for that picture. Then, you can only look at the ones that you want! Even so, this photo site was still over 17 pages long! Then, I had more pictures to add so I divided this page up into 7 separate pages.
There are many web sites out there with photos of other pond enthusiasts' ponds. Here is but one of those: http://watergarden.org/pages/index.html.

Visit all seven pages of Robyn's pond pictures!
---
---
Wind & Weather sells neat things for your garden!
---
The World's Largest Pet Store is your source for discount aquarium, pond, and pet supplies!
---
There have been 29,526,918 visitors (file views since 2006) to Fishpondinfo from October 1, 2003 through December 7, 2013.
---


Copyright © 1997-2013 Robyn Rhudy